Access and itineraries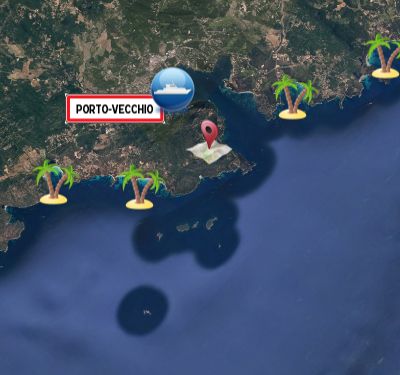 Résidence U-Pirellu
Route de Palombaggia
Hameau de Picovaggia
20137 Porto-Vecchio
For your reservations, please contact us :
contact@residence-upirellu.com
+ 33 4 95 70 63 13
From the port of Porto Vecchio
When you arrive at the port, turn right and arrive at the marina. At the mini roundabout turn left towards Bonifacio and continue straight ahead until you reach the large wooded roundabout at the southern exit of the city. Take the second exit and cross the Stabiacciu bridge to the third roundabout where you turn left direction to Palombaggia via Picovaggia. Follow this road for about 6 km until you reach the entrance of the hamlet of Picovaggia, the entrance of the U Pirellu residence is a few meters on your right.
Duration of the trip : 20 minutes
From Figari Airport
Leave the airport and after 3 km you will reach the village of Figari where you will turn left towards Sotta and follow straight on to Porto-Vecchio. Always follow this road for about 12 km until you reach the entrance to the city at the large roundabout just after the "Total" tank station. At the roundabout, go straight ahead towards Palombaggia via Picovaggia. Follow this road for about 6 km until you reach the entrance of the hamlet of Picovaggia, the entrance of the U Pirellu residence is a few meters on your right.
Total travel time : 30 minutes
From Bastia Poretta Airport
At the exit of the port, turn left towards Bonifacio and Porto-Vecchio. Always follow this road for 140 km, it runs along the entire eastern coast of the island.
When you arrive in Porto-Vecchio, at the roundabout of the "Géant Casino" hypermarket, turn right immediately in the direction of Bonifacio. Follow the southern ring road and go straight on at the next 3 roundabouts, at the 4th roundabout, turn right again and cross the Stabiacciu bridge until the last roundabout where you turn left towards Palombaggia by Picovaggia. Follow this road for about 6 km until you reach the entrance of the hamlet of Picovaggia, the entrance of the U Pirellu residence is a few meters on your right.
Total travel time : 2h30 mn
From Ajaccio airport
At the airport exit take the bypass on your right up to the junction indicating Propiano,Sartene, Porto-Vecchio. Follow this road for about 80 km until you pass the village of Pianottoli Caldarello. A fork on your left indicates the direction of Figari and Porto-Vecchio.
In the village of Figari, continue straight ahead towards Sotta and Porto-Vecchio. Always follow this road for about 12 km until you reach the entrance to the city at the large roundabout just after the "Total" tank station. At the roundabout, go straight ahead towards Palombaggia via Picovaggia. Follow this road for about 6 km until you reach the entrance of the hamlet of Picovaggia, the entrance of the U Pirellu residence is a few meters on your right.
Total travel time : 2h30